Evangelism and Spirituality Group
The Circuit Evangelism and Spirituality group will next meet on
Wednesday 10 April 2019
at Trinity Wakefield at 7.30pm.
It will be helpful if each church could send a representative as we will be discussing the Day of Prayer in June and Prayer Walks in September.


Below is copied from an invitation from Jacob Kaiga:
INVITATION TO OUR CIRUIT DAY OF PRAYER, FASTING AND FEASTING (PFF) DAY ON 29/6/19.
I write to invite you all to our Circuit prayer, fasting and feasting day at Sandal on 29th June 2019.
We will start at 10.30am with introduction and finish at 4pm. You don't have to be there the whole day. You can come for few minutes or few hours or stay throughout the day.
There will be different rooms for communal, one to one and child friendly prayers. You don't have to fast to be there. Drinks will be available thorough out the day.
We will end the day with communal prayers at 4pm and a meal at 4.30pm.
Please come and let us pray for our Circuit Spiritual and numerical growth. The Bible says "So after they had fastened and prayed, they placed their hands on them and sent them off" Acts 13:2-3. We will pray for our Clusters as we send them off to start in September. If you have any questions ring me on 01977702673. God bless you all. Jacob
__________________________________________________________________________________
This group has organised a prayer walk around the 31 churches for Autumn of 2018. The purpose of the prayer walks is to link every Church in the circuit spiritually by prayer with a time or prayer at each church.
The detailed timetable is as follows- anyone is encouraged to join for all or part of any walk on any day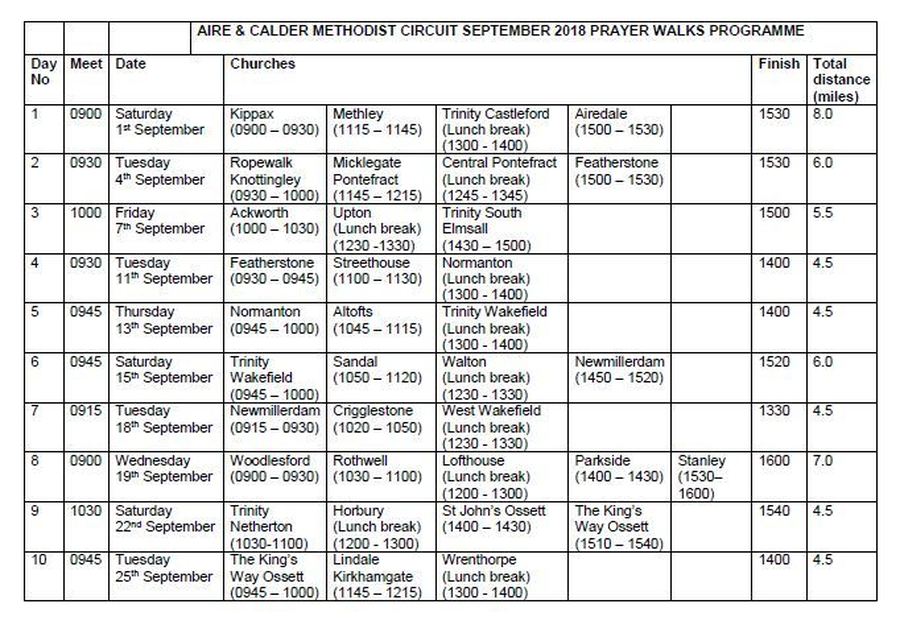 last update NAS 7/6/19...